In 1668 Rev. Henry Warren purchased 750 acres of land in St. Mary's County from William and Temperance Bretton. The Brettons had, in 1661, gifted an acre and a half of land to the area's "Roman Catholic inhabitants."
Much like St. Inigoes and St. Thomas, the plantation at Newtown was worked by indentured and enslaved laborers, who cultivated tobacco and other crops there. Eight adults—Will, Jack, Kitt, Pete, Mary, Teresa, Clare, Peggy—and seven children—Jack, Clemm, Tomm, James, Betty, Cath, and Susan—were enslaved at Newtown in 1717.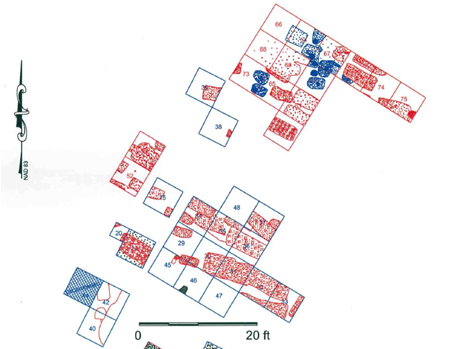 St. Francis Xavier Cemetery (18ST859)
In 2010-2013, an archaeological team directed by Jim Gibb, Scott Lawrence, and Valerie Hall identified the likely location of the seventeenth-century chapel and residence within the St. Francis Xavier Cemetery. These earthfast structures were probably in use until about 1700. Since then, most structural evidence has been disturbed by graves. Today, a simple "ghost frame" structure marks the site's location.
Read the report and check out photos of the project.
St. Francis Xavier Church and Newtown Manor House (18ST16)
By the early eighteenth century, the locus of the plantation at Newtown moved about half a mile south. At some point after 1680, enslaved laborers built a large manor house with a brick foundation, which measured about 33.5 by 45 feet. It was probably one and a half stories high, had two chimneys, two small cellars, and a central passage: a layout common in the eighteenth-century Chesapeake. Near the dwelling was a kitchen and outbuildings, which included slave quarters. Enslaved laborers built a church there in 1731, and a second brick manor house in 1788-89 (raised to two stories in 1816). A likely nineteenth-century slave quarter was located to the north of the church. Archaeological projects in the early 1970s (directed by Michael Humphries), 1982 (directed by Dennis Pogue and Michael Smolek), 2019 (directed by Jim Gibb), and 2022 (directed by Laura Masur) have investigated the complex landscape of Newtown. Read more about the site here.
Additional archaeological sites located on Newtown Neck
Two historic period domestic sites may have been the residence of tenant farmers or enslaved Africans (18ST451 and 18ST891). Read about the results of the 2015 archaeological survey directed by Julie King. A 2020 project directed by Scott Strickland and Julie Schablitsky revisited these two sites, which date to the eighteenth (18ST891) and late eighteenth through nineteenth centuries (18ST451).
Artifacts Found at Newtown